Why Consider a Partial Nephrectomy?
A nephrectomy is the surgical removal of the kidney.
A partial nephrectomy or kidney-sparing procedure involves the removal of only the unhealthy portion of the kidney, leaving healthy tissue intact.
Types of Partial Nephrectomy
There are three common approaches for a Partial Nephrectomy, these are
Open Partial Nephrectomy
Laparoscopic Partial Nephrectomy
Robotic Partial Nephrectomy
Complexity of Partial Nephrectomy
The level of difficulty of performing partial nephrectomy depends on a number of factors.
Patient related: Age, BMI (body mass index), Gender, Previous insult (infection, trauma, surgery)
Tumour related: Size, location, extent of invasion into kidney and surrounding structures. Various tools are available to assess complexity. The most commonly used one is R.E.N.A.L. Nephrometry score.
Surgeon related: training and experience
Surgical approach: open, laparoscopic or Robotic
Robotic Partial Nephrectomy
With the advancements in technology and robotics, it is becoming easier to perform complex surgical procedures with high accuracy and precision, and with minimal invasion. These surgical outcomes are impossible by human hand.
Robotic partial nephrectomy is one such procedure, which is performed to remove smaller renal tumours and is an alternative to open surgery and laparoscopic surgeries.
Robotic partial nephrectomy ensures that the normal region of the kidney remains functional and reduces the risk of future kidney failure while ensuring good cancer outcomes.
Incisions for Open vs Robotic Partial Nephrectomy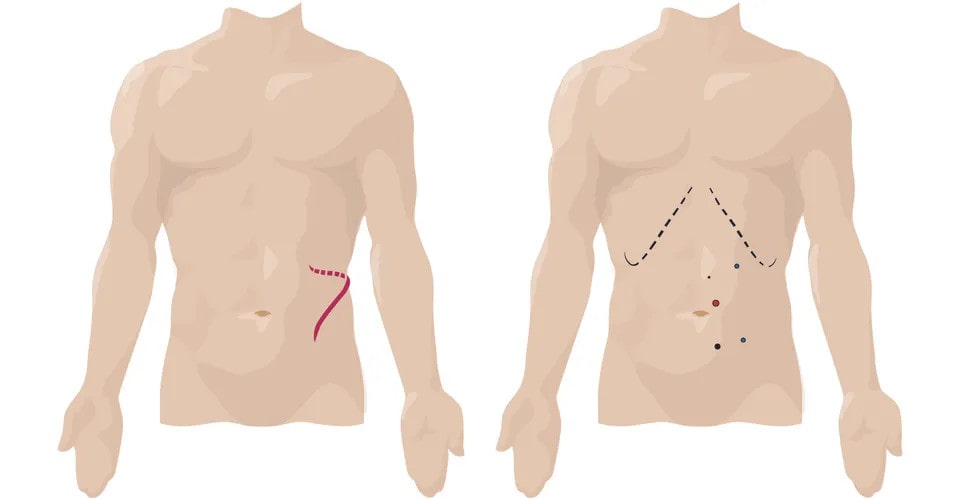 Robot-Assisted Partial Nephrectomy (RAPN) Animation
Features and Benefits of a Robotic Partial Nephrectomy
This surgical approach offers a number of benefits, chief among them are:
smaller incisions which are minimally invasive,
less bleeding,
quicker recovery times and
reduced incidences of post-operative complications.
The robot can also do intracorporeal sutures more accurately which can be technically challenging during laparoscopic procedures for even the most skilled surgeons.
Risks and Complications
Partial nephrectomy may involve certain risks and complications.
They include:
Bleeding
Urine leak (Urinoma)
Injury to neighbouring tissues
conversion to radical nephrectomy or open
Infection (Chest, wound, urine)
Pulmonary embolism (blood clot in the leg or lung)
Preparation Before a Partial Nephrectomy
Not every case of asymptomatic renal mass or a renal tumour may be suitable for this procedure and Dr Kim will make the final call based on a number of factors. He may also discuss complex cases at a multidisciplinary cancer care meeting to obtain a consensus opinion from a number of colleagues.
Once partial nephrectomy is deemed to be the most appropriate treatment modality, Dr Kim will explain the surgery in detail and ensure that patients are adequately counselled and have a clear understanding as part of the informed consent process.
In order to prepare for the surgery, Dr Kim will arrange Anaesthetic and relevant medical review subject to his clinical assessment (history taking including significant medical conditions and physical examination). He will also run a number of tests to ensure that the patient is fit and in good health for the surgery. These will include:
Pathology Test,
Urine Analysis,
CT Scans if needed
This is major surgery and the patient is advised not to eat anything for six hours before the procedure.
Steps in a Robotic Partial Nephrectomy
The surgical procedures include the following steps:
An IV line is passed into the patient's arm to push fluids as needed.
The anaesthetist sedates the patient and monitors his vital signs during the procedure.
The patient is positioned in the flank position.
Small incisions are made for the robotic arms and camera to allow the surgeon to see the internal view.
Once inside, the surgeon operates the robot on the console using controls.
The robot arms are manipulated to perform fine dissection of various structures and organs
The kidney main vessels (hilum) are dissected
Ultrasound is used to determine proper resection edges of tumour
The renal hilum is often clamped to allow bloodless field during tumour resection
The tumour is then cut out with clear margin
Suturing of the defect (renorrhaphy) is performed in multiple layers
Haemostasis is achieved
Wounds are closed in layers after the specimen is safely extracted
Bringing the patient out of anaesthesia and placing in post-operative care
The robot used in this surgery is called the Da Vinci robot. Dr Kim may show the robot to the patient before the surgery in order to relieve any associated anxiety and answer any related questions.
For non robotic Partial Nephrectomy the steps vary slightly.
Recovery After a Partial Nephrectomy
The patient is kept in the recovery room for observation and their vitals are monitored. Pain killers (ie NSAIDs and paracetamol) are given for pain management. The patient is moved to a room in a few hours, and can begin to take liquids by evening.
You may feel nauseous and experience mild pain in your shoulder (after minimally invasive surgery) and abdomen.
You will have a urinary catheter inserted to make it easier to pass urine and a drain to keep an eye on any output from the surgical site. The nurse may measure the amount of urine and drain content you have passed.
The wound dressing may be removed after 48 hours and you will be advised to walk short distances and gradually advance to longer durations. Pain relief can also be taken on as per need basis. The patient can be discharged when they return to a normal diet, which is usually within 48-72 hours.
You will be advised to avoid heavy lifting and drink plenty of water so you can pass urine regularly. You can resume your normal daily life within a few weeks.
Care Plan After a Partial Nephrectomy
Dr Kim will devise a care plan for the patient and request follow up, several weeks apart.
He will also check kidney function regularly after surgery, to ensure satisfactory renal health.